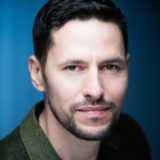 Vincent Manna
Advanced Academy Tutor
Vincent Manna trained at LAMDA and has worked internationally as an actor, dancer, movement director, choreographer and teacher.
When not performing he is based mainly at LAMDA where he enjoys working with final year students on their public shows, and teaching those earlier in their training. He also makes devised movement theatre at LAMDA and has created over 35 productions at the school. Vincent also sits on the audition panel every year.   He teaches on the BA in Acting, MA in Classical Theatre, Foundation Degree, and on the Foundation Diploma. Vincent is now in his 12th year of teaching at the academy.
Vincent has also worked at The Guildhall School of Music and Drama, Rose Bruford College, Mountview, The Royal Academy of Music, The International Theatre of the Adriatic in Corato, Italy, and for The Absolutely Fabulous Theatre Connection in Hong Kong.
Vincent is keen to nurture and develop skills in talented youngsters and has worked for The National Youth Theatre as well as Youth Music Theatre UK; developing music theatre based work for young people in Plymouth, Hemel Hempstead, Godalming, Edinburgh, Belfast and South Korea. He has been delighted to have been on the YMY UK auditions team for a decade.
As an actor his credits include the character of Wimp in 'Wimp' (debut one man show), Krishna/Tolstoy/Kasturba/Abdullah in 'Phoenix Rising' for Tara Arts, Alpha Male in 'Wolf' at The Caves in Edinburgh, Don John in 'Much Ado About Nothing' at The Globe Theatre in Germany, Lord Henry Wotton in 'The Picture of Dorian Gray' at The Leicester Square Theatre, Avraham in 'Deir Yassin' at The Bloomsbury, Yun Chin in 'Bicycle' at The Camden Peoples Theatre, Demetrius in 'Titus Andronicus' at The Mercury in Colchester and at The Globe Theatre in Germany, Fenton in 'The Merry Wives of Windsor' at The Globe Theatre, Germany.
Film credits include lead roles in two short films The Hope Ruby and Still. And for television – Doctors.
He has also worked in the corporate sector for companies such as Philips, M.O.D and Vodaphone.
Prior to his acting training, Vincent studied Ballet and Contemporary dance at Rambert Dance School, and subsequently toured internationally with Mathew Bourne's Swan Lake