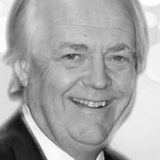 Sir Tim Rice
Internationally renowned lyricist, producer and author Tim Rice was born in Amersham in 1944, and was educated at Lancing College in Sussex.

Early in his eminent career he achieved worldwide acclaim for his hugely successful stage musical collaborations with Andrew Lloyd Webber creating 'Evita', 'Jesus Christ Superstar', and 'Joseph and the Amazing Technicolor Dreamcoat'. These musicals firmly established a new style of British musical which has dominated The West End and Broadway stages ever since the early 1970s. Other successful collaborations include 'Chess' with Abba, 'Blondel', 'Heathcliff', 'King David', Disney's 'The Lion King' with Elton John, 'Beauty and The Beast' and 'Aladdin' with Alan Menken. Also 'Evita', 'Jesus Christ Superstar' became very successful films. His credits as theatrical producer include 'Anything Goes' and 'Chess' in the West End.

Tim Rice was knighted in 1994 and has won numerous prestigious awards and accolades worldwide – including Oscars, Grammy Awards, Platinum and Gold Records, Ivor Novellos and Golden Globes – all for his lyrics in musicals, film scores and songs, on both sides of the Atlantic. Notably he won an Oscar for the songs 'Can You Feel The Love Tonight' with Elton John in Disney's film of The Lion King, and a Golden Globe for 'You Must Love Me' with Andrew Lloyd Webber for the film of Evita, starring Madonna. His lyrics also feature in the songs from the films of Octopussy, The Road To Eldorado and Aladdin.

He has consistently been one of the most acclaimed and loved members of our British show business personalities throughout his career, and makes regular appearances on TV and radio broadcasts. He is also passionate about cricket (with his own cricket team – The Heartaches Cricket Club), and an active charity and arts supporter. He was also a former member of the band Nightshift.