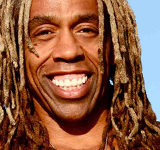 Rikki Beadle-Blair
Advanced Academy Tutor
Rikki Beadle-Blair MBE is a British actor, director, screenwriter, playwright, singer, designer, choreographer, dancer and songwriter of British/West Indian origin. He is the artistic director of multi-media production company Team Angelica.
In 1979 he won the Edward Bonds young playwright award and now hosts 'How to write plays' workshops.
He has produced, revamped and co-directed many pieces in the genre of the LGBT and Pride such as Nigel Finch's Stonewall (1994), Metrosexuality (2001) and Roots of Homophobia (2002).
In April 2011 he was commissioned by The Royal Albert Hall to write direct and design the short film 'Butterfly'. It was based on the winning entries from a schools competition in which students had to pitch a modern version of 'Madam Butterfly'.
In October–November 2011 he wrote, directed and designed Shalom Baby at Theatre Royal Stratford East.
In November 2011,Beadle-Blair along with John R Gordon established Team Angelica Books. Its first publication was Beadle-Blair's first book 'What I Learned Today' compiled from a years worth of his Facebook statuses. Subsequently the company has published 'Fairytales for Lost Children' a book of short writings by gay Somalian Diriye Osman, plus two novels by John R Gordon, 'Faggamuffin' and 'Colour Scheme.'
In 2011, 2012 2013, 2014, Beadle-Blair and John R. Gordon ran the Angelic Tales new-writing festival, mentoring several new writers of varied experience, staged readings were performed at Theatre Royal Stratford East. Several of the plays went to full productions – including 'Crowning Glory' by Somalia Seaton at the Theatre Royal Statford East. 'Lean' by Isley Lynn at the Tristan Bates and 'Step' by Lynette Linton.
In September 2012, One of the Angelic Tales plays 'Slap' by Alexis Gregory was invited to present another more-developed staged reading at Channel 4's London HQ, directed by Beadle-Blair. The Q&A was hosted by Gok Wan