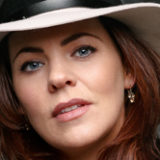 Rachel Tucker
Enjoy this lovely personal biography from one of our Patrons Rachel Tucker….
"Would you be happy in the back row of the chorus for the rest of your life?"

"Absolutely!" was my reply to a very short but definite conversation with my mum at the age of fifteen. There was never any question about me wanting to take to the stage for a living; it felt as though it was the only option in front of me, and a very natural thing for me to do as a career.
From the age of nine I started singing with my dad around the local cabaret circuit, which is now pretty much non-existent in Belfast. It was a very young age to get such an adrenalin rush from a crowd but I was hooked, and the more I did it the more I longed to do it!
My weekends were mainly spent singing with my dad accompanied by big live bands, with me choosing and preparing 6-10 songs for that night's performance. It wasn't long before I was acting out scenes from 'Singing In The Rain' with my brother so I decided to take myself along to my local Saturday drama classes at The Golden Thread Theatre, where I got to play my first lead role… which happened to be a male role at that-Bugsy Malone! This was the part that gave me the 'acting bug'; I was in my element up there acting, singing and dancing round my umbrella at the age of 11 and now, there was nothing I didn't want to be involved in!
I made it my every spare minute to attend drama groups and dance classes around Belfast. Each summer I would join the Lyric Theatres summer production; Joseph And His Amazing Technicolour Dream Coat, The Sound of Music, where I got to work with professional actors brought in from London. I then moved on to The Arts Youth Theatre where we would create and mount original and well known productions such as The Winters Tale and Our Day Out. Then for a couple of summers I was lucky enough to be part of the Ulster Theatre Company's 12 week training course were we rehearsed for productions such as The Rocking Mikado and West Side Story and then got to tour the UK to regional theatres with a full orchestra to packed houses and at the age 17! This was what sold it for me. I thought, this is it! This is what I want to do the rest of my life!
CREDITS: 'Come From Away' West End and Broadway, Pirate Queen in 'The Pirate Queen' West End, Elphaba in 'Wicked' Westend and Broadway, Meat in 'We Will Rock' You West End, Meg in Sting' Musical 'The Last Ship' Broadway, Dorothy in 'The Wizard of Oz' West End.