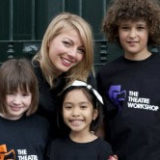 Lora Munro
Founder
Lora trained at the Italia Conti Academy in London and established The Theatre Workshop in 2003. Today, nearly 400 children benefit from the company throughout the UK. The Theatre Workshop has helped launch the careers of many of the UK's leading young actors, as well as revolutionising what's on offer for young performers in the South East.
In 2013, Lora was a National finalist and regional winner at the STREAMLINE NATIONAL BUSINESS AWARDS, and in 2011 Lora's contribution to creating one of the UK's top performing arts schools was recognised when she was awarded for 'OUTSTANDING PERSONAL ACHIEVEMENT' at the national 'BEST BUSINESS AWARDS.' She has been invited to speak about the creation of The Theatre Workshop and performing arts training on BBC Sussex, Business Heroes, The Voice Magazine and Sussex Life.
In 2013, Lora established Hungry Wolf Visionary Youth Theatre, which has performed to critical acclaim at the Brighton, Edinburgh and Lambco (London) fringe festivals. The company focuses on new writing and working with the leading young actors from across the county. Hungry Wolf is a not for profit organisation and is dedicated to the creation of new work.
The Theatre Workshop is committed to providing an outstanding training platform providing challenging, innovative, relevant and unique creative opportunities for young performers across the the South East.