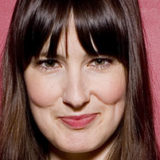 Lewis Barfoot
Advanced Academy Tutor
Lewis is an artist who creates theatre and music. She trained at ALRA graduating in 2002 with a "Critics Choice" in the Stage. She has had some pretty cool experiences over the years. Highlights include making her first solo show: The History of the Pomegranate, touring the world in 1927's Animals and Children Took to the Streets and playing Queen Isabel opposite Kevin Spacey in Richard II.
As a theatre-maker she created Up The Cafe De Paris, (New Players), The History of the Pomegranate (Jacksons Lane), WOLF (Edinburgh Festival), Hidden Birds (Winner of Les Eurotopiques Festival, France), Bedtime Stories (Upswing) and Incontinental (CPT). And as an actress she has performed extensively all over the globe including Taming of The Shrew(Aquila Theatre, New York)  and Richard II and Hamlet directed by Trevor Nunn (Old Vic Theatre).
She runs theatre and self expressive workshops, coaches actors addressing all aspects of performance, self confidence, the voice & voicing the authentic voice. She has led workshops in acting, physical theatre, devising and Shakespeare for 1927, Aquila Theatre (NYC), Youth Music Theatre (UK), The British Council and the British Ballet Organisation.
As a musician she launched her debut folk EP Catch Me in 2016, described by Irish Radio International as "Delicious Music a massage of the heart, a whisper to the soul".  She has just released a new single called Wise Owl which will form part of her debut album. She has also created original music for five theatre productions and counting!
"The honesty and trust Lewis provides when working is beautiful.Anyone who embraces theatre and dreams of the stage should meet this woman as soon as possible" YMT cast member.