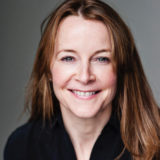 Kirsty Dillon
Advanced Academy Acting Tutor
Kirsty has had a diverse acting career for in both acting and voice-overs for over 20 years.
She is probably best known for her recurring role in ITV's Midsomer Murders. Her career spans over numerous film and television projects including Pembrokeshire Murders, Spotless, Blackout, Strike, Man Like Mobeen.
Kirsty was recently was awarded Art Council funding to write and performed her own one-woman show 'Groomed to Perfection' in partnership with ATG theatres which is touring in 2020.
She has been a professional voice over artist for over 20 years and worked on numerous commercial, corporate, gaming and documentaries.
Kirsty has been coaching young actors for over 5 years including at Brit School, Chichester University Musical Theatre course and Theatre Workshop.