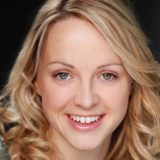 Claire Cassidy
Dance Tutor
West End Musical Theatre Credits Include The Sound of Music, (Wimbledon Theatre and Saddlers Wells) Les Miserables (Palace Theatre) Oliver! (The London Palladium)
Mamma Mia ( Prince Of Wales and International Tour) . She is also one of the  four original members and dance captain  of the Mamma Mia Mini Troupe that promotes Mamma Mia worldwide traveling to countries including Malaysia, Singapore and Taipei. She has even been lucky enough to travel as far as New Zealand appearing on the Finals of Dancing with the Stars.
Her TV and Film credits include Laughter of God (UK and USA), Little Miss Playdays, Children of the New Forest ,Martha Cratchit in A Christmas Carol staring Patrick Stewart. (UK and USA), Bombardier Idents with Rik Mayall for Dave.
In 2012 , Claire arrived back home to the UK from a 3 year contact working as an Executive Production Assistant to Jean Ann Ryan, Supervising Choreographer and Vocal Coach for Jean Ann Ryan Productions in Fort Lauderdale, Florida, USA.
Choreographer and Creative Director credits include the European Tour of "The Best of Musical Starnights"  (2011-2015), Dick Whittington ,Cinderella, Snow White and the Seven Dwafs and Beauty and the Beast (Harlow Playhouse) Lady Anna ( Park Theatre, London and UK Tour) ,The Lion, Witch and The Wardrobe and Rapunzel Rock ( UK Tour).
She also works a free lance choreographer, working recently on cabarets including "Live From Las Vegas" for the Hilton Foundation Charity Event at Hilton Hotel, Park Lane and Momentum Charity Event at the performed at The Brewery.
In her "spare time", she works as a Casting Associate to West End Casting Director Debbie O' Brien who currently casts West End productions including Kinky Boots, Annie UK Tour, Thriller Live, Priscilla Queen of the Desert UK Tour, Dirty Dancing Uk Tour and West End , The Bodyguard( UK Tour and West End)  and The Snowman to name a few.