HUNGRY WOLF VYT Workshop & Development Week 2021
In 2021 we ran our first writing and devising workshop with 40 company members, 2 writers & 1 director and the work produced blew us away. It was a huge success and we can't wait until we come together again in this way. The young creatives worked on traditional fairy tales in stunning surroundings to create four unique pieces.
GOODBYE ROSETTA 2018
Be taken on a journey of self-discovery in this bitter-sweet coming of age tale.
In this age of anxiety, depression and loneliness Goodbye Rosetta tackles the issue of teenage mental health with sensitivity & wit. Performed by a cast of nine, Goodbye Rosetta takes us on a journey of self-discovery as a group of misfits, with a little help from the stars,  navigate their way through the disarray caused by an emotional breakdown. This coming of age tale tells the story of a group of teens on the verge of adulthood.
On the day Katherine Manners (writer) started her research, the Rosetta space probe crashed into the Comet67P. It had been travelling to, and orbiting the comet, for 12 years. "There was something so inherently dramatic about that story, something heroic and tragic and self-sacrificing, and confirmed a hunch that space held a great many metaphors for depression." Katherine Manners
Inspired by this cosmic sacrifice and Matt Haig's work Goodbye Rosetta was born. Written exclusively for Hungry Wolf Visionary Youth Theatre, Goodbye Rosetta was developed by 30 young actors in collaboration with writer, Katherine Manners & Director, Conor Baum. Hungry Wolf VYT strive to give young people a voice creating current and cutting edge theatre. From the producers of the hit play 'Runts' Hungry Wolf VYT return to Brighton Fringe Festival to premier this original piece of new writing.
Goodbye Rosetta premiered at The Warren during the Brighton Fringe Festival playing to SOLD OUT audiences and receiving 5 Star reviews before transferring to London and then on to the Edinburgh Festival Fringe.
Writer: Katherine Manners
Katherine is a writer and actress. She trained at the Central School of Speech and Drama and has performed regularly in the West End, in regional theatre and on television.
She has had several short plays produced, including Lucky George for the RADA studios and  London Transport Museum, and Don't Cross Bridges for St James Theatre and Southwark Playhouse, which is currently being made into a short film.
She has several plays in development including Rooftoppers which has had workshop development at the National Theatre studios and Bristol Old Vic, and The Worst Word which is being supported by The Yard Theatre, Hackney, and will be part of the Camden People's Theatre Hotbed festival.
Director: Conor Baum
Having trained at Rose Bruford College and Columbia College Chicago (where he was awarded Outstanding Achievement in Directing) Conor Baum was offered a directing observership with California-based repertory company Shakespeare Napa Valley in collaboration with the University of Kingston and SITI Theatre Company New York. Conor then went on to work alongside The Wrestling School under Howard Barker and was a participant in two research projects alongside the Royal Shakespeare Company. Conor is a resident director of Brighton-based theatre company Brief Hiatus and was previously the artistic director of Squall + Frenzy, his work receiving a nomination for Best Play at Brighton Fringe 2014. His recent credits include two five-star sellout productions – Dracula at Preston Manor ("Conor Baum is not only a director-he is an orchestrator, a producer and a designer — and this is fully on display in his breathtaking concept" – Remote Goat) and Sweeney Todd at 88 London Road ("…the whole production showed the minimalism and creativity which characterises Baum's work." – FringeReview). Conor is thrilled and honoured to be collaborating with Hungry Wolf and is looking forward to the year ahead.
Goodbye Rosetta tells a tale that is so current, so real and so true, it's justifiably the hottest ticket at the fringe! – Sussex Newspaper, 5 Stars
Interpret this as you wish, but If you've got children, or care about the future of our young people and the importance of community, I recommend that you go and see this play by this brilliant young company – Fringe Review, Must See Show
The cast are an indication of the talent that exists among the next generation of actors and they are a joy to behold. We can join with them and say with Bette Davis, 'Don't let's ask for the moon, we have the stars'– Broadway Baby – 4 Stars
RUNTS, 2016
In 2015 we saw Izzy Tennyson perform 'Brute' during its sell-out run at the Edinburgh Festival and immediately wanted to work with her.  Written for one person, the monologue is semi-autobiographical, based on Izzy's teenage schooldays in a provincial English town. 'RUNTS' is an expanded version of this monologue written by Izzy herself exclusively for Hungry Wolf's 2016 all-female production.  The plot surrounds the lives of a group of girls at a state school who develop intense and passionate friendships that escalate into violence.  Izzy wrote the original monologue from the perspective of her teenage self, interwoven with scenes involving characters based on girls from her peer group.  'RUNTS' packs the same punch as its source material; themes include the economic climate, bullying, female violence, and the complexity of female adolescent friendships.
'RUNTS' debuted at The Marlborough Theatre to sell-out audiences as part of the 2016 Brighton Fringe Festival where it received 4 Star reviews. Following this success 'RUNTS' went on to perform at Etcetera Theatre during The Camden Festival, London.
BRIGHTON FRINGE FESTIVAL REVIEWS
http://www.broadwaybaby.com/shows/runts/711388
http://brighton.fringeguru.com/reviews/brighton-2016/runts
A LITTLE RESPECT, 2015
When describing the style of the piece, writer and director Dave Jackson said, "think 'Skins' meets 'Gone Girl'.  With a bit of 'Glee' thrown in!"  The play is a 'sexy little thriller', filled with intrigue, waspish one-liners and homoeroticism.  What first appears to be a traditional piece of situation comedy quickly becomes something sharper and more sophisticated, as the stereotypes we are presented within the opening scenes are flip-reversed.  It is a stark story of stolen kisses, adolescence, cruelty and cyber revenge that keeps you guessing until the final thrillingly hilarious scene.  It's a 'shot in the arm' for Youth Theatre.
'A LITTLE RESPECT' debuted at The Marlborough Theatre, Brighton during the 2015 Brighton Fringe Festival, to sold-out audiences and 5-star reviews.  It was consequently invited to perform at London's Lambco Fringe Festival before a week of performances at the Edinburgh Fringe where it went on to gain further 4 and 5 star reviews.
Reviews for 'A LITTLE RESPECT'
Edinburgh Festival
http://www.broadwaybaby.com/shows/a-little-respect-/707653
http://sgfringe.com/2015/08/18/sg2015-review-a-little-respect/
Brighton Fringe Festival
http://www.thesussexnewspaper.com/review-a-little-respect-the-marlborough-theatre-brighton/
http://www.thenewcurrent.co.uk/#!brighton-fringe-review-a-little-respect/c4aj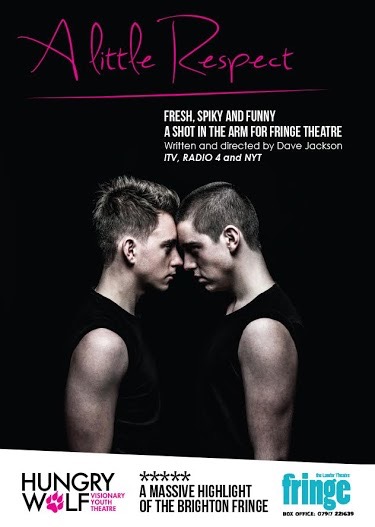 THE ELECTRA PROJECT, 2014
Performed at the Brighton Fringe Festival to a five-star review, 'THE ELECTRA PROJECT' then enjoyed a successful week-long run at the Edinburgh Fringe Festival.  The plot alludes to a nationally publicised and controversial event in 2012 regarding GCSE performance, which resulted in the sacking of two drama teachers.  Drawing from the moral conundrum this event provokes, the piece is based on a group of A-Level students devising a Greek tragedy that goes horribly wrong.  The piece, a comedy, explores themes such as the importance of drama in schools, the boundaries that are in place and questions whether we are still allowed to make mistakes in education.
The piece was written and directed by NYT director, Radio 4 Young Comedy Writer of the Year, ITV writer and leading drama teacher, Dave Jackson.  Established youth director and drama teacher, Rebekah Whitely co-directed.
Reviews for 'THE ELECTRA PROJECT'
Edinburgh Festival
http://www.broadwaybaby.com/shows/the-electra-project-/701537
http://www.freshair.org.uk/team/fringe/posts/1333-review-the-electra-project
Brighton Fringe Festival
http://www.thesussexnewspaper.com/review-electra-project-emporium-theatre-brighton/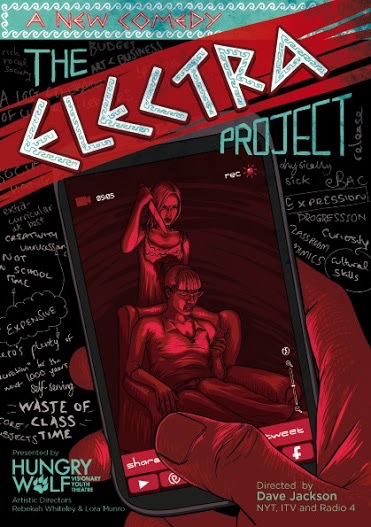 GROWING PAINS, 2013
Hungry Wolf's first production received 5-star reviews at the Edinburgh Fringe festival, undertook a school's tour and was produced in an abridged version by ITV.  Not bad going for our debut!  A devised piece, the performance focusses on growing up and the issues teenagers have to cope with, often behind closed doors.  Violence at home, sexuality, and the pressures of bullying via social media are some of the themes that our cast of young actors drew from their own difficult experiences and then workshopped in the rehearsal room.  One of Sussex's leading youth Directors, Rebekah Whiteley guided the cast through this process which resulted in the poignant and thought-provoking play that wowed audiences at every performance.  Hungry Wolf was born!
Reviews for 'GROWING PAINS'
Edinburgh Festival
http://www.britishtheatreguide.info/reviews/growing-pains-space-surgeon-9314
http://www.threeweeks.co.uk/article/ed2013-theatre-review-growing-pains-theatre-workshop/
Brighton Fringe Festival
http://www.whatsonstage.com/london-theatre/reviews/05-2012/growing-pains-brighton-and-hove-senior-school_4343.html