The Kettling
A brand new production commissioned in the summer of 2019 by Hungry Wolf Visionary Youth Theatre written by Katherine Manners, workshop and development by Award Winning Katie Beard and directed by Conor Baum. Suddenly kettled at a climate change protest on the hottest day of the year, Kelly finds herself trapped with a volatile and unlikely mix of people. Battling to maintain a fragile peace, Kelly is forced to confront and challenge her principles as well as her motives. As the heat intensifies, tensions mount. But in the belly of the kettle, something is born. When people are pushed to their limits it can bring out the best, and very worst, of human nature.
Aug 10th, 11th, 12th, 13th & 14th @ 12:45pm
VENUE: TheSpace on the Mile, Space 1
VENUE 39
High Street, Edinburgh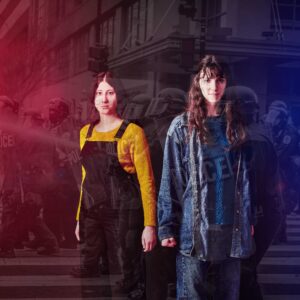 PREMIERED AT
The EA in MAY
May 7th 4:45 & 6:30
May 8th 3:00 & 4:45
May 21st 4:45 & 6:30
May 22nd 3:00 & 4:45
VENUE: The Electric Arcade, The Gaiety
Madeira Drive, Brighton
Writer: Katherine Manners
Katherine is a writer and actress. She trained at the Central School of Speech and Drama and has performed regularly in the West End, in regional theatre and on television.
She has had several short plays produced, including Lucky George for the RADA studios and  London Transport Museum, and Don't Cross Bridges for St James Theatre and Southwark Playhouse, which is currently being made into a short film.
She has several plays in development including Rooftoppers which has had workshop development at the National Theatre studios and Bristol Old Vic, and The Worst Word which is being supported by The Yard Theatre, Hackney, and will be part of the Camden People's Theatre Hotbed festival.
Katherine is returning to Hungry Wolf VYT after writing the 5 Star production 'Goodbye Rosetta'.
Director: Conor Baum
Having trained at Rose Bruford College and Columbia College, Chicago (where he was awarded Outstanding Achievement in Directing) Conor Baum was offered a directing observership with California based repertory company Shakespeare Napa Valley in collaboration with the University of Kingston and SITI Theatre Company, New York. Conor then went on to work alongside The Wrestling School under Howard Baker and was participant in two research projects alongside the Royal Shakespeare Company. Conor currently works at Shakespeare's Globe as their Learning and Teaching Manager.
Hungry Wolf VYT are thrilled to have Conor on board to direct The Kettling after a wonderful collaboration on Goodbye Rosetta in 2018.
Take a look at the promo from 5-star show, Goodbye Rosetta